Membership
Join the Aquarium Family!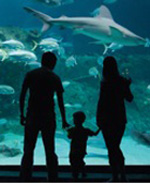 You can help support exciting new exhibits, fun educational experiences and valuable conservation programs by joining the North Carolina Aquariums. Members receive a host of valuable benefits like free admission, but also take pride in supporting the Aquariums and their mission.


SPECIAL OFFER Save with a Two-Year Membership!
Levels of Membership
Benefits of Membership
Click For More Info

Individual
Couple
Family
Curator
Annual Dues
$59
$109 (2-YR)
$79
$149 (2-YR)
$89
$169 (2-YR)
$139
$269 (2-YR)
Free Admission
AZA Reciprocity
(Free or Discounted)
10% Gift Shop Discounts
10% Program Discounts
Trick-or-Treat Under the Sea Discount
10% Discount on Guest Admissions
(Limit 6 Per Visit)
SEAmail Monthly E-Newsletter
Foto FX Photography: Free 4x6 print with any package
Free Walk-on at Jennette's Pier at Nags Head
Free Admission for One Added Guest Each Visit
Premium Member Gift Package
Members receive unlimited free admission for one full year at all three North Carolina Aquariums. Family members receive free admission for two adults named on the card and their children or grandchildren under the age of 18. Curator members receive the same Family benefits, plus free admission for one guest per visit.
The NC Aquariums and the Association of Zoos and Aquariums (AZA) have partnered to provide discounted admission to Aquarium Society members at over 150 zoos and aquariums around the country. For NC Aquarium members, this means free admission at the NC Zoo! Unless otherwise stated, discounted admission is limited to two adults and two children under the age of 18 (for Family and Curator memberships). Reciprocity agreements are subject to change, so we advise you to contact reciprocal facilities prior to your visit. For more information regarding reciprocity, contact us at: membership@ncaquariums.com.
Members receive a 10% discount on gift shop purchases at the three Aquariums. (Sale Items excluded). Visit our New Online Gift Shop: Online Gift Shop! .
Members also receive a 10% discount on Aquarium educational programs, camps, classes, and field trips offered throughout the year. Members also get early notification of many Aquarium activities through SEAmail, our monthly e-newsletter. Be sure to have your member card ready when you sign up!
All active Aquarium members can treat their guests to a 10% discount off regular admission rates. This benefit is limited to six guests per visit. Guests must arrive with members at the Admissions window, and the discounted admission may be paid by the member or by their guests. This guest discount is not available through online ticketing.
If you love the Aquariums and want to help us grow, consider upgrading your Family membership to the Curator level. Curator members receive the same benefits as Family members, plus free admission for one guest per visit. Curators also receive a special premium gift package when they join, including unique Curator window decals. But best of all, know that your higher level of support helps bring exciting new exhibits and programs to the Aquarium you love!
Here's another new benefit of membership - Aquarium members can present their membership card to walk for free on Jennette's Pier at Nags Head. Aquarium members also receive discounts on food and merchandise purchases at the pier (Members do not receive discounts on education programs or fishing). For more information, visit www.jennettespier.net.
Foto FX is the Aquariums' official photography provider. Members receive a free 4"x6" print with the purchase of any photo package.
---
Business Membership
Connect your business with all the great things the Aquariums and Jennette's Pier have to offer! Business Members are annual donors whose support is used directly to help the Aquariums and their exhibits, programs, and conservation efforts. And, all three Business Member categories offer great benefits to business owners and their employees.
Benefits of Business Membership:
• One Curator-level annual membership, provided for the family of the business owner
• Complimentary Aquarium admission tickets that can be distributed to customers, employees or friends
• 25% discount off Aquarium memberships for company employees (must provide employee list with authorized company email addresses)
• VIP Invitations to special Aquarium events
• Custom window decals for business storefront and vehicles
Recognition:
• Business name listed on the Aquarium/Pier website donor pages
• Business name listed in the Aquariums Annual Review, made available to more than 15,000 member households
• Business members in the Offshore Club will be listed in each Aquarium's central recognition feature
Renewals:
Business Members will receive renewal notices and can be invoiced for their annual contributions.

---
Additional Member Information
The Aquariums offer a discounted rate for family memberships purchased in quantity. Realtors, business owners, and others can take advantage of this offer-purchase 25 or more family memberships at $60 each. For more information on this program, please call our membership office toll free at (800)-832-FISH(3474).
Each Couple, Family and Curator Membership includes two membership cards. If you would like additional cards or lose your card and need a replacement, they can be purchased for $5 each.
When your membership is due for renewal, we'll send you an email reminder. Just open the email, click on the link for online renewal, and complete your transaction safely and securely. Be sure to add us to your contacts list to make sure you'll receive our emails.
Your membership dues are tax deductible as allowed by law. For more information, contact your tax advisor. The following has been determined to be the Fair Market Value (FMV) for benefits received in the various membership categories. Curator FMV benefits may be declined if you wish a 100% tax deduction of the amount paid.
Members may elect to decline FMV items and receive a 100% tax deduction.